The written word is not my preferred method of expression – grammatical errors have been left uncorrected.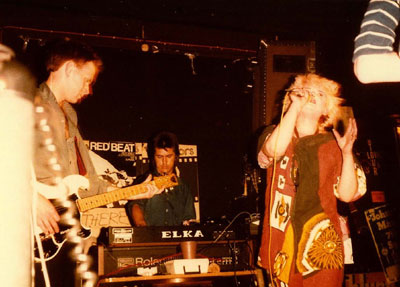 My Road To Finish The Story
My first important step to becoming a member of Finish The Story was being taught basic guitar chord shapes by my father. He was a member of the Maurice Cooper Quartet who performed around the Birmingham area in the mid 1960,s. One review of his band in 'Midland Beat' shared column inches with a review of an embryonic Slade. I still use his guitar, a Boosey Hawkes acoustic with a Schaller pick-up, which he imported form the United States. I learnt to play classics like 'The Sunny Side of the Street' and 'All of Me', which is still one of my favorite songs.
At school I was taught English by Clifford T. Ward who had a massive hit in 1973(?) with a song called 'Gaye'. Gaye was my girlfriend. This long haired Wordsworth reading hippy's life changed over night. One day he was driving a battered old Ford Cortina and the next a flash Scimitar. I can remember thinking, "I want a bit of that" I hope I don't suffer the same slow lingering death he suffered, decades of illness and wasting decay.
In 1976 I went to Exeter College of Art to do my degree in Fine Art. Punk was becoming a tangible thing, powerful and a culture I could understand but didn't really belong to – I was becoming very middle class and 'Art School' even though my politics had its foundation in (real) Socialism and Communism (my grandfather and uncle were ex coalminers and my great uncle was a left wing councillor). My exposure to the history of art (composers: John Cage, Stockhausen, artists: Rauschenberg, Gauguin, Pollock, Stella) helped to define my musical and artistic position.
I first met Garry Smout in 1977. He joined Exeter College of Art and was a charismatic pivotal character, who embraced the spirit of the time and became one of the key members of the '4D studio' (a remarkably brave department at Exeter College of Art, one of the first in the UK to recognize that video and sound could be classified as an art medium.) Garry was a frustrated musician; he bought a sax and formed a band called The Drills which I had a role in as guitarist.
I can't remember the chain of events but we eventually evolved into a band called T34. This was close to the real thing for me and enabled me to write songs and lyrics the way I wanted to, needless to say the sound we made (Garry, Mike Shearer, Bun, and I ) was not commercial and not definable as Punk in the perceived sense of the word. Even now the songs we created sound bizarre and unusual – these were the foundations of the music for Finish The Story.
My graduation show was in 1979 and T34 were booked to perform at the graduation ball as the support act to a local band called 'The Urge'. I was sharing a house with a photography student called Russell Young (who later took the definitive picture of George Michael in a leather jacket – an 'almost' iconic image) he was the singer in The Urge an out and out Post-Punk band, with an unstable guitarist who ended up in a psychiatric ward a couple of weeks before 'The Ball'.
There was panic. Russell in desperation asked me to sit in and play guitar for him, a task I jumped at. I knew I was a better guitarist than their founding member, I was harder and more aggressive, I was young and I could take on the world.
The night of the ball was a multi-tasking nightmare. I had to show guests my work in the gallery, sound check for both bands, entertain my parents and finally play with T34, do a quick change and perform with The Urge.
There was a reasonable sized audience and amongst the invited was Peter Kent an AR man from Beggars Banquet and Bauhaus mentor. The Urge set was very raw and exciting to play (I had to read the chords of a sheet – I didn't know the songs). After the performance Peter Kent came over to Russell and asked him to support Bauhaus in London with a view to maybe signing to the new 4AD label (the label was originally called Axis – but there was a cock up. Axis already existed so the name had to be changed.) Russell explained about the lack of guitarist but was told that I was part of the deal. This was an opportunity I wasn't prepared to miss. I left T34 and then embarked on one of the most exciting periods of my life.
Being the support for Bauhaus was a great honour and an extremely fast learning curve. This was the first time I had gigged in London. We also supported Adam and the Ants (We were thrown off the tour – he was a tosser – the reviews said The Urge were better than the Ants) Protex, The Innocents and The Pack (One of the songs we did was called 'Exeter Rapist' which was written by The Drills – and subsequently lead to Russell being arrested by Devon Constabulary on suspicion of being a rapist. This lead to some bizarre news coverage, including Radio One – I was virtually hounded out of my home by disgusted villagers) . I was also invited to witness Bauhaus' contract signing to 4AD in a pokey office at the back of Beggars Banquet's record store. This invitation was a prelude to The Urge being offered the same deal as Bauhaus – to be their stable mates. The contract was offered and after legal advice we turned it down and then split up. The bass player was called Jez Gibson – who is a missing link in the T34/Finish The Story chain.
T34 reformed with Garry on keyboards, Jez Gibson on bass and me on vocals and guitar. Yet again the music we created was more alternative than alternative – but we wrote some great songs together. However, I ran out of cash and had to return to my hometown to join the family business. (In 1990 I played in Belgium as 'This Window' and used one of T34's tracks as a backing track. The song was called '21′ this live version was released by EEtapes in Belgium – I'm still proud of that little song).
Russell and I were still close friends and we got together in London in a flat above Goodge Street station and created a surreal performance ensemble called In a Glass Darkly. This group comprised of Russell, two ballerinas in tutus and on point and me playing guitar with a fencing mask, accompanied by backing tapes of dripping taps and ticking clocks. We performed at all the trendy night spots in London and for some bizarre reason we appeared in Italian Vogue.
Meanwhile back in Bromsgrove – Garry phoned and asked me to help him get a set together with a young child called Nicola Baby Go Slippers. In a Glass Darkly was fun but not really sustainable and by this time had fizzled out.
I was glad when he called and asked me to help with the Malvern gig, things were at a low ebb for me creatively…I needed to flex my grey muscle.
Driving to 'the farm' for the first rehearsal was a happy journey – I was full of optimism – the bounce up the drive in my old Austin A60 pick up – passing the odd Did and stray dog…I was adopted by the 'did pea pickers' – they wanted the pick-up – it was all optimistic. I felt that both Garry and I had served our apprenticeship and now it was the time to do it for real.
The Malvern gig for me was one of my better moments – I wasn't sure what I was doing – it was instant and edgy (the best way – like my first Urge gig). 'Better than the second coming… The rest is written history.
Peter Bright (May 25th 2005)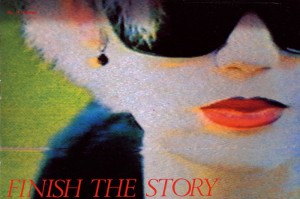 Ménage a trios
Performing on stage with Nicola was an intense experience – she was exactly what T34 (Garry and I) had been lacking. Garry to this day claims he held Nicola and I back – because of his perceived musical ineptitude – to be able to look at things in a different way but be handicapped by ability is not ineptitude, it is the breeding ground of creativity. Nicola was the philosopher by circumstance – the grieving, suicidal teenager and I was the whore with the heart of gold. The trick with the tricks and the power to empower. (Maybe?)
The first thing Nicola and Garry said to me was "The moustache has got to go." I had to explain that it was a temporary growth due to a cold sore. I was nearly sacked before I'd played a note.
The first gig with The Dancing Did, was an incredible shock for the three of us, the audience were stunned (that sounds so arrogant) we had managed to pull it off, we weren't sure if we could repeat it again. Our first rehearsals for the Malvern gig were in Evesham at 'the farm' in Bod's bedroom. Garry had already worked out drum patterns and pulses and Nicola had a vision in her mind of what she wanted to say and sing – my job was to come in and fill in the gaps.
Garry and I had a lot of common ground, we knew what each other were likely to do, so we used a few tricks from our T34 days – to make our task easier. We instinctively knew that certain things would work e.g. if I played powerful chords with a space between the changes (as in 'Playing at Life') a sense of drama and anticipation would be created. Likewise if Garry played long notes on the string machine a sense of relief and elation would be created. Nicola and her haunted cries and whispers, simply and beautifully nestled inside a blanket of barbed sound, the nerve jangling relentless T34 blitzkrieg – a hybrid of sounds, spawned from Kraftwerk, Orchestral Manoeuvres In The Dark, Bauhaus, Led Zeppelin, The Banshees etc – all plundered from vast record collections and tapes, a Post Modernist dream. The result made the hairs stand up on the back of your neck.
We belonged to the Evesham scene. The Dancing Did and The Photos were a totally different breed to Finish The Story, we were the oddballs. The Vauxhall Inn was where we all drank. The bar was full of haircuts, young flesh and anticipation, mixed in with the occasional Gypsy (Did). Finish The Story only rehearsed in Evesham a few times, the rest of the time we rehearsed in Bromsgrove or Bristol. We always came back to The Vauxhall for a bit of local culture because that is where we began and where Nicola wanted to escape from – it was a reminder. There were great parties with allsorts of shenanigans going on – at one a bloke swapped his boyfriend for a sofa – how bohemian. I can remember going back one time when the Vauxhall bar was quiet and subdued. Virtually everybody in the bar had pubic lice, the local chemists had run out of cream and had to have emergency supplies shipped in from neighbouring towns. Was it lice or a STD? Either way Finish The Story were clean, weâ'd been in Bristol working hard for a gig.
The chance to support The Cure at Hammersmith Odeon came about because Robert Smith had heard a copy of 'Doorways' and had liked what he'd heard. It was great fun – a proper dressing room, hospitality and catering. (I bred Goats at the time – I'd bred a breed champion – so I asked the catering company to save me all the vegetable peelings so I could give them to my goats as a treat. How Rock and Roll was that?)
Robert Smith mixed the sound for us, allegedly. Jez Gibson played sax for us – his bowels were empty, he'd spent most of the day on the loo due to fear. (I always felt happier when Jez was with us he was musically reliable and trust worthy, solid and could always tell what was required without any verbal interaction – he also created the strong backbone of The Urge and T34.) Hamersmith Odeon was a vast place and our pathetic amount of gear was lost on the stage. When the stage lights came on you couldn't see a thing it was like being in a small room – just another day at the office. The after show party was crowded and there was lots of tears. I'm not sure what was going on. I stood next to a black spiked haired girl and whispered into Nicola's ear "Christ she stinks" I was dragged away and told "That was Siouxsie". I'd turned my nose up at one of my icons – whoops.
There was always a tension between the three of us – sometimes it was creative and sometimes smothering – sometimes it simply got too much for us – musically it had got too intimate and close to the bone. Socially we had a good time – we were always a marriage of three and relationships outside the triangle were always difficult and fleeting. (Until we played at the Era Club in Bristol and I met my future wife.) With any ménage a trios there is always somebody at some point left twiddling their thumbs. I always felt I was the third member and in some respects I was perceived as that.
Tim Harrison of The Dancing Did gave me an opportunity to reclaim my identity. I became a pawn in a politically motivated piece of choke chain pulling by Tim. The position of bassist had become available in The Dancing Did, Mr. M. Doorman (ho, ho) had already decided who he wanted to take over the vacant bassist position – Tim was pissed off and wanted to regain control – He insisted they had auditions – Tim asked me and told me the decision was a forgone conclusion. However – I played a fucking blinder – I played with a hard white funk attitude. I never got the job…….Nicola went berserk and I think that was the first time I really got sacked. If by some strange twist of fate I had been offered the chance to join The Dancing Did, I would have taken it and left Finish The Story – FTS was in a negative phase at the time. Nicola and Garry were getting on my nerves and I was getting on theirs. I was forgiven and Nicola had revenge by writing 'You'll Never Have The Chance To Do It Again' not quite a love song! – but it got the fire back into our bellies and things got better.
Peter Bright (May 27th 2005)