Source: These images are made using cardboard stencils are refer to garden design….as an asthmatic gardens make me wheeze….even in small doses plant life triggers allergic reactions….even small plants…. Bonsai is not an option.
The Chariot : Outcome – All of these things below have happened »
Conflicts ending in victory! Keep charging ahead this is a time of change, travel and success if you stay committed to achieving your goals. A journey relating to work is imminent and if you've had your eye on that new car it will soon be yours. Remember, though, that you'll need to use both your intellect and your heart, in order to be truly successful. A battle can be won if you have the willpower for it. The battle is an external one, with a clear goal and plan of action. Qualities needed to win the battle include self-reliance, righteousness, conviction and plain hard work. The steeds represent powerful forces, internal or external, that can be controlled to achieve the goal.
'Bonsai for Asthmatics'
I painted these ten years ago to the day.
Materials = Acrylic, Oil and commercial paint mixed with cod liver oil, marker pens on wooden frame.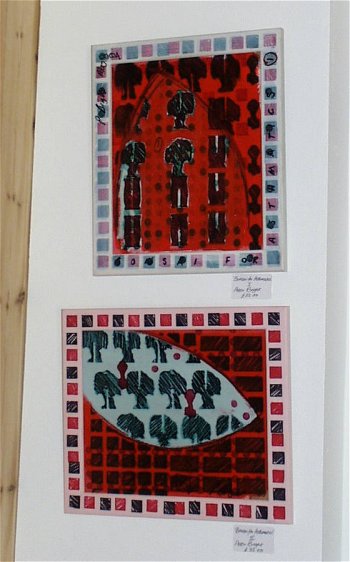 Two paintings called Bonsai for Asthmatics
The Broomhill Art Hotel, Muddiford
Summer exhibition – 'The Small Picture Show' 5th June – 4th July 2004
Photo by J. Bright
These paintings were painted in May 2004 in Woolacombe.
Some frequent keywords include:
Conquest — Honor — Victory — Energy
Egocentrism — Self—confidence — Conviction — Anxiety
Willpower — Self—assertion — Hard control — Discipline
Inflexibility — Success — Wealth — Recognition
Impulsivity — Command — Bravery — Pride
Related articles