Click on images for more details

Quotes: "Take up a radical position with Peter Bright, who is borderline anarchic in his thinking and equally bold in his art."  Andrea Charters … Continue reading ?
Exhibition of Prints, Drawings and Paintings by
Peter Bright
150 Building, West Buckland School
Monday 6th June – Friday 1st July (open 0900 to 1600 Mon. to Fri.)
Old images and ideas revisited and recycled – re-executed in print and paint. A body of work based around "Beauty and the Beast" a classic tale of love, rejection and prejudice, where the beauty is the beast and the beast is the beauty.  An  allegory, a symbolic representation or a metaphor for my feelings towards ART.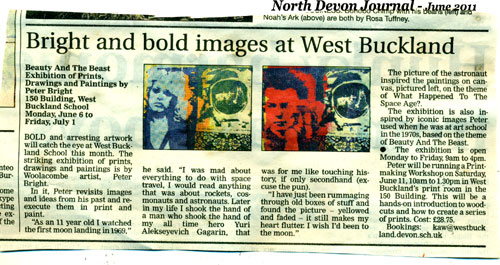 Here is a newspaper clipping about the exhibition at West Buckland school. To see larger image click here
Painting is the practice of applying paint, pigment, color or other medium to a surface. The application of the medium is commonly applied with a brush. In art, the term painting describes both the act and the result of the action. These same criteria can be used to describe printing.
This exhibition coincided with a printmaking workshop I gave as part of the 'Evole 150' courses being held at West Buckland School. Read more…

My heroes have grown old with me or they have died – maybe their death has been a way to freeze time, stop the aging process – not only for them but for me also? 'Peter's exhibition was inspired by … Continue reading ?