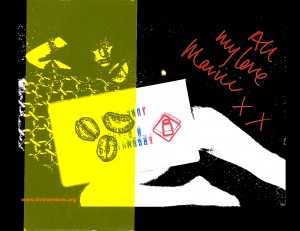 Here is an image of mine that was exhibited at The Alabama Art Kitchen (An Art Collective) 2626 University Blvd. Tuscaloosa, AL 35401, USA, during February 2012.
To receive your postcard click the button below – the £1.00 is to cover postage etc.
Originally this recycled postcard was a promo for 'Cassette Culture' a download album from This Window which was released in 2009 (which is available on iTunes etc). The photograph is of Marni De Much, the drummer on the 'Morgue Studio Demos' limited edition This Window CDR release.
---
This is the print of mine that was exhibited at Cheim & Read, 547 W 25th Street, NY. (January 2012)
I was delighted to be included in this exhibition which also featured artworks by Jeff Koons, Yoko Ono, John Waters, Donald Baechler, Marilyn Minter, Ed Ruscha, Polly Apfelbaum, Adam Fuss and Kiki Smith .
---
Invited artists from all over the world to contributed their work to an exhibition called 'Works on Paper'.
My Screen print was in this exhibition at the ASWARA Gallery, National Arts & Heritage Academy (ASWARA), Kuala Lumpur, MALAYSIA  From February 1st to 29th 2012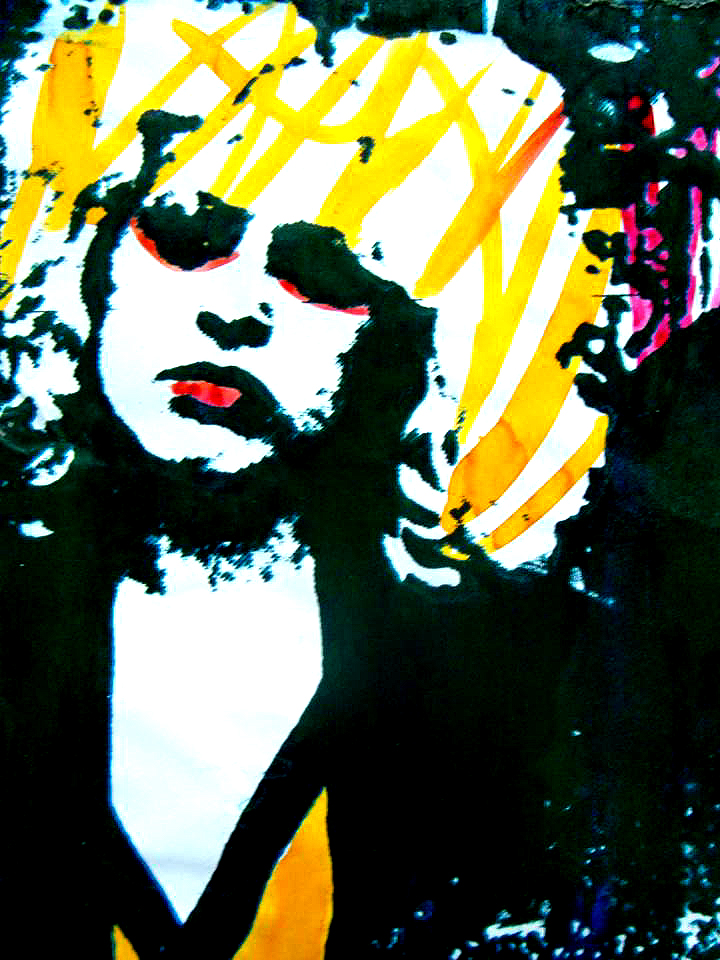 Screen print over ink wash
---

Quotes: "Take up a radical position with Peter Bright, who is borderline anarchic in his thinking and equally bold in his art." Andrea Charters …
Exhibition of Prints, Drawings and Paintings by Peter Bright
150 Building, West Buckland School.
Here is a video featuring a track call 'Tanks Le Lot' which was appears in the 'Extraction' remix on the album 'Cassette Culture
". The images are of the exhibition in the 150 building.
This Window
Monday 6th June – Friday 1st July (open 0900 to 1600 Mon. to Fri.)
Preview 6th June 1800 to 2100
Old images and ideas revisited and recycled – re-executed in print and paint. A body of work based around "Beauty and the Beast" a classic tale of love, rejection and prejudice, where the beauty is the beast and the beast is the beauty. An allegory, a symbolic representation or a metaphor for my feelings towards ART.
Painting is the practice of applying paint, pigment, color or other medium to a surface. The application of the medium is commonly applied with a brush. In art, the term painting describes both the act and the result of the action. These same criteria can be used to describe printing.
This exhibition will coincide with a printmaking course I will be giving. Read more…
Tuesday, June 01, 2010 – Wednesday, June 30, 2010
Time: 11am to 4pm (Last admission 4pm)
Peter Bright presents 'Topiary for Beginners'. Creating images is balancing on the knife edge that teeters between success and failure. A brushstroke out of place is like cutting the beak off a privet peacock, it takes time for it to grow back and reshape. Peter revisits his compositional ideas, formed in the late 70's, to discover how his skills have 'matured'.
Price Details: Free (entry fees apply for sculpture gardens) Access: Good
Address: Broomhill Art Hotel , Barnstaple , Devon , EX31 4EX
=======================
'The Impromptu Exhibition'4th December 2007 (Secret Location in North Devon)
I decided to have an impromptu exhibition – it is so impromptu the people who are coming to visit don't even know it is an exhibition.The paintings exhibited are landscapes based on the Exmoor Landscape – I'm not fond of Exmoor it is dull……The exhibition is for one day only.
=======================
Devon Artsculture – 3 Years In! Devon Artsculture will be showcasing the talents of its members on the afternoon of 21st November 2007 at Dartington Hall. Telephone 01803 847000
=======================
Landmark Theatre, Ilfracombe, North Devon, UK 
3rd September 2007 – 7th October 2007
This was an extremely successful sell out exhibition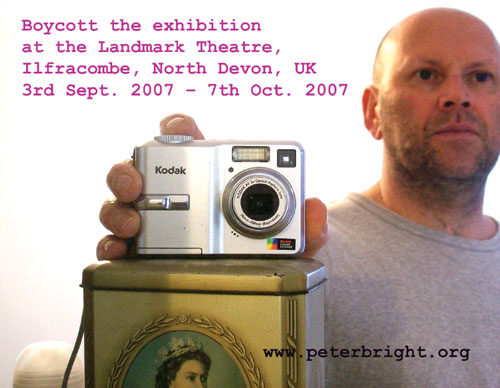 Click here for review – More Images
Download/View the Video of the Exhibition 4th Sept. 2007 Windows Media File (low res. 2.51mb) QuickTime (high res. 28.08mb) Depending on your connection speed this may take some time.
The movie above was taken after the Preview at the Landmark Theatre (4th September 2007)
Images and video of exhibition
=======================
'Art Trek'The Marquee, Fremington Quay, N.Devon, UK – Fri 16 – Mon 19 Jun 2006 @11:00 – 18:00
=======================
The Museum of Dartmoor Life, Okehampton,UK 'RECYCLE – Dartmoor' – using recycled materials – from 15 April to 27 May 2006.
=======================
"Softcopy"exhibition at Kimura Gallery, University of Alaska, April 3-17, 2006.(Your work is selected for inclusion in the "Softcopy" Exhibition, which opens today. M Gonzales.)
=======================
North Devon Arts 'New Year, New Work' NDA Annual Winter Exhibition at Broomhill Art Hotel – 15th January – 18th March 2006Contact the gallery on:(UK) 01271 850262
=======================
North Devon Arts  'New Year, New Work'  The Broomhill Art Hotel, Muddiford – 7th Annual exhibition16th January 2005 – 27th February 2005
=======================
Allergies 2  Solo exhibition@ 'The Queen's Theatre', Barnstaple.23rd August 2004 – 19th September 2004.Following on from the 'The Second North Devon Art Show' I began to think more about prevention and cure…… general illness……Illness is political……
=======================
Two paintings called  Bonsai for Asthmatics  The Broomhill Art Hotel, MuddifordSummer exhibition – 'The Small Picture Show' 5th June – 4th July 2004
=======================
Allergies Selected paintings 'The Second North Devon Art Show' at 'The Queen's Theatre', Barnstaple. 10th January 2004 – 28th February 2004(Then on tour with Beaford Arts)
=======================

"Gallery Night & Day, October 24th & 25th, 2003 @ Kunzelmann-Esser Lofts, Milwaukee, Wisconsin"(Painting arrived at Gallery 4th Sept.2003)
Royal Albert Memorial Museum
Exeter March 2nd 1979 – 24th March 1979Exhibition of Prints from Exeter College of Art
10-31 mai 1979
École Regional des Beaux-Arts RENNES

Une exposition commune des élèves
=======================
Princesshay Photo Gallery – Suite OneExeter May 4th 1978 for two weeks Exhibition of lithographs and prints with light and sound installation.Exhibitors: Peter Bright, Alan Humberstone, Ross Dunbar & Tony Hunt
---
This Window – 'Cassette Culture': Extraction now on iTunes
May 25, 2009
I clearly prefer This Window to any other current state of the artmixers that are presently popular. This review is from Stick It In Your Ear a UK fanzine (1990). This Window – Cassette Culture 1989 – 2009 – Extraction …