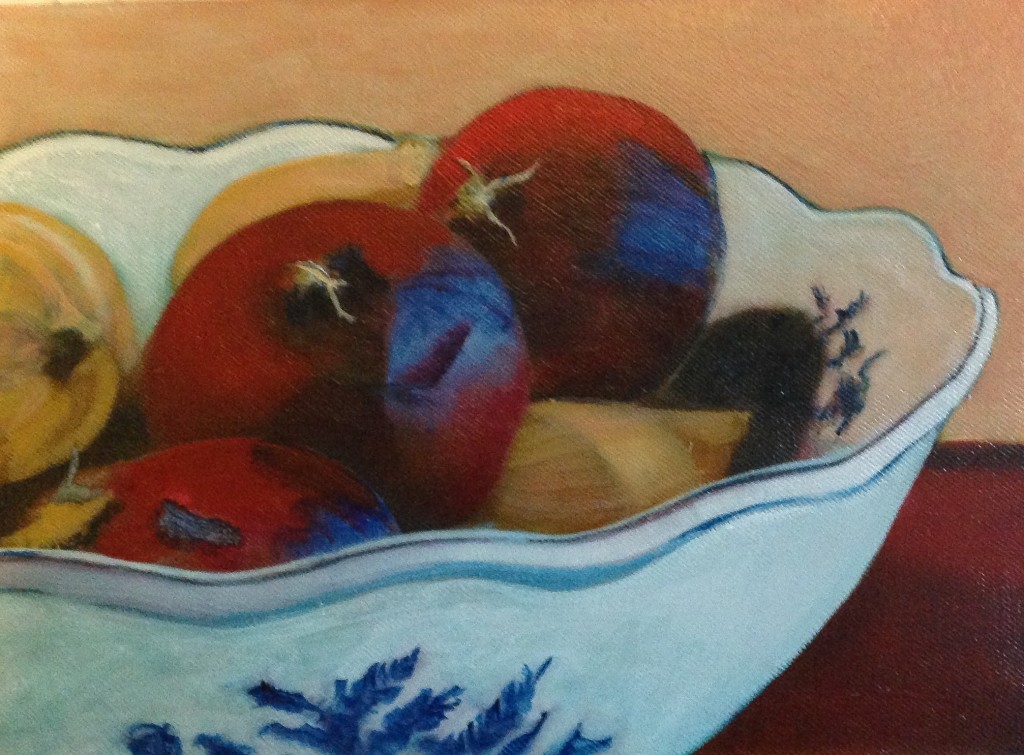 Oil paint on paper over canvas May 2014
Further information on this painting can be found here.
Card 1 (Strength) : How you feel about yourself now »
You feel that despite the challenges you have been faced with in the past, present or future, you will find the strength and courage to succeed. Whether you are recovering from ill health, a broken marriage or relationship, or challenges at work, you will find the will power to come out on top. If you are looking to give up any bad habits, such as smoking or drinking for example, this is a good time to do it.
Card 2 (The Emperor) : What you most want at this moment »
The cards suggest that what you most want at this time is success and achievement, and the support and influence of perhaps your father, husband/partner or a man of significance in your life who you believe could help.
Card 3 (The Tower) : Your fears »
You are afraid your world is falling apart, you're experiencing sudden changes and disruption and you don't quite know what to do. Perhaps subconsciously you've wanted a solution to an issue but didn't quite expect things to have turned out as they have. Use this change as an opportunity for a new beginning. If you have been planning to move home you will be experiencing setbacks.
Card 4 (Judgement) : What is going for you »
Brand new potential, an opportunity which once given must not be ignored, a new project, decision or relationship that could affect the rest of your life. You will enjoy success and enjoyment for past efforts, events will pick up a pace and the outcome will be quicker than expected.
Card 5 (Wheel Of Fortune) : What is going against you »
A run of bad luck here, perhaps already evident or certainly signs that things are not going your way. The responsibility of important decisions weigh heavy with you where there are choices to make. Trust your intuition, and even if you have to make the painful decision to give up something in order to move on, then have the courage to do it. Trust that The Wheel of Fortune constantly turns and whilst it may be against you at the moment it will in time turn and bring you good fortune.
Card 6 (The Chariot) : Outcome »
Conflicts ending in victory! Keep charging ahead this is a time of change, travel and success if you stay committed to achieving your goals. A journey relating to work is imminent and if you've had your eye on that new car it will soon be yours.