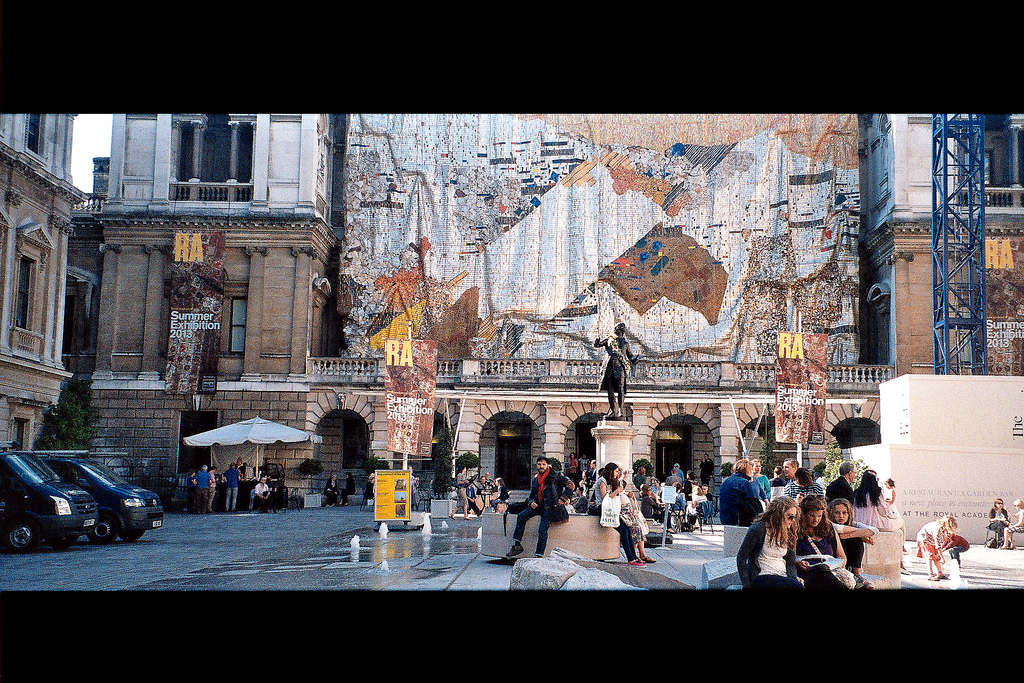 I went to the preview of the RA summer exhibition at the weekend – it was full of the usual high and low points. Possibly the glass of Pimms was the most exciting thing…
What the critics like: You'll find great pieces if you keep your eyes peeled, says Rachel Campbell-Johnston in The Times. This is a vast messy reflection of what is going on in artists' studios all over Britain. In an art world dominated by meticulously curated exhibitions that instruct you what to think, "we should learn simply to love it for that".

Read more: http://www.theweek.co.uk/art/53489/royal-academys-summer-exhibition-lucky-dip#ixzz2VpwUxdzx
Really enjoyed the Grayson Perry textile wall hangings, not my thing really but garishly fun.
In 2012 Grayson Perry made documentary series 'All in the Best Possible Taste with Grayson Perry', about class "taste" variables, for Channel 4. Each episode showed him living among the "classes" in different towns, he explored both male and female culture in each "league" and focused on what they buy, creating a juxtaposition of 'good taste' and 'bad taste'. The documentary was in three parts: "Working Class Taste," and "Middle Class Taste," and "Upper Class Taste." The conclusion of the documentaries was one of 'so what'  – bad taste could be good taste and good taste could be bad taste, it is all subjective and above criticism.
He photographed the people he came into contact with and illustrated his experiences. These sketches were then developed using Photoshop to create finished image files that were then processed to create final tapestries, which were woven on a computer controlled loom in Flanders. The contents he says, were partly inspired by William Hogarth's series of small paintings "A Rake's Progress" depicting 18th century society at the time (1732-33).
Of the tapestries, Perry says,
The Vanity of Small Differences consists of six tapestries that tell the story of Tim Rakewell. Some of the characters, incidents and objects I have included I encountered whilst filming All in the Best Possible Taste. The tapestries tell a story of class mobility. I think nothing has such a strong influence on our aesthetic taste as the social class we grow up in.
Why not get some art delivered in the post for only £1.00 ?
We will mail you a signed postcard of an image that was exhibited in an exhibition of Peter Bright's at West Buckland School.
To receive your postcard click the button below – the £1.00 is to cover postage etc.
Quotes: "Take up a radical position with Peter Bright, who is borderline anarchic in his thinking and equally bold in his art." Andrea Charters … Continue reading ?
Exhibition of Prints, Drawings and Paintings by
Peter Bright
150 Building, West Buckland School
Monday 6th June – Friday 1st July 2011
Old images and ideas revisited and recycled – re-executed in print and paint. A body of work based around "Beauty and the Beast" a classic tale of love, rejection and prejudice, where the beauty is the beast and the beast is the beauty. An allegory, a symbolic representation or a metaphor for my feelings towards ART.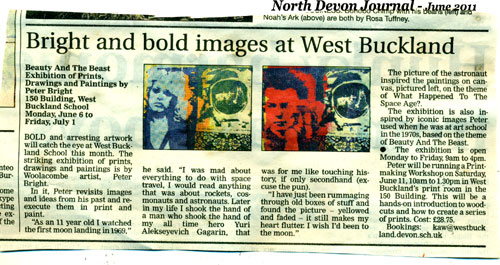 I have always loved the idea of Mail Art – the forerunner of the Internet!
Here is a newspaper clipping about the exhibition at West Buckland school. To see larger image click here
Related articles