MorgueGallery.com  will mail you a signed postcard of an image that was exhibited in an exhibition of Peter Bright's at West Buckland School.
To receive your postcard click the button below – the £1.00 is to cover postage etc.
Quotes: "Take up a radical position with Peter Bright, who is borderline anarchic in his thinking and equally bold in his art."  Andrea Charters … Continue reading ?
Exhibition of Prints, Drawings and Paintings by
Peter Bright
150 Building, West Buckland School
Monday 6th June – Friday 1st July 2011
Old images and ideas revisited and recycled – re-executed in print and paint. A body of work based around "Beauty and the Beast" a classic tale of love, rejection and prejudice, where the beauty is the beast and the beast is the beauty.  An  allegory, a symbolic representation or a metaphor for my feelings towards ART.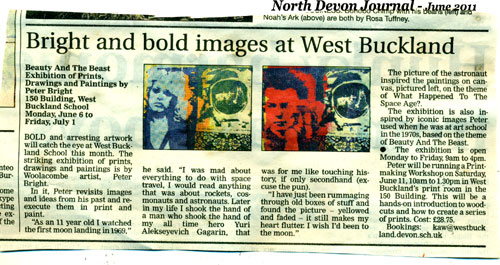 I have always loved the idea of Mail Art – the forerunner of the Internet!
Here is a newspaper clipping about the exhibition at West Buckland school. To see larger image click here
Related articles