Aquetin carried out an experiment studying the light passing through the colored panes of glass in his veranda. Bernard wrote and commented on this experiment, 'Aquetin observed the light streaming through the coloured panes of a glazed door and noticed that yellow produced an impression of sunlight; green of dawn; blue of night; red of twilight.' Bernard painted 'The Reaper' in the key of yellow (often repeated later by Van Gough) and in the key of blue, 'The Avenue de Clichy at Evening'. These paintings were exhibited at the Revue Independante, at the Salon des Independants and at the headquarters of Les Vingt in Brussells. Read more…
I'm not sure I believe all that or all of these words below: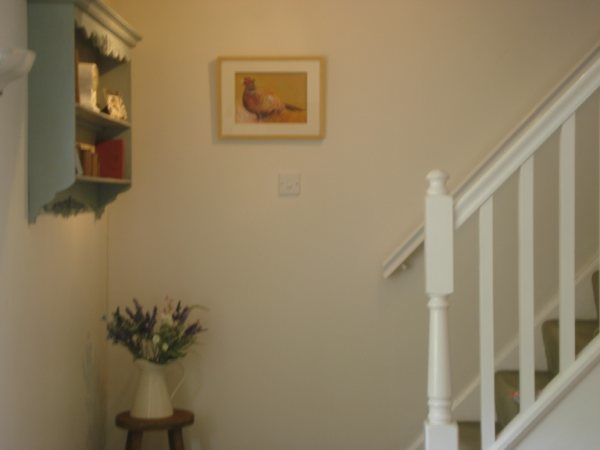 Another of my commissions hanging on a wall in Worcestershire
Les XX»
Founded on 28 October 1883 in Brussels and held annual shows there between 1884 and 1893, usually in January–March. The group was founded by 11 artists who were unhappy with the conservative policies of both the official academic Salon and the internal bureaucracy of L'Essor, under a governing committee of twenty members. Unlike L'Essor ('Soaring'), which had also been set up in opposition to the Salon, Les XX had no president or governing committee. Instead Octave Maus (a lawyer who was also an art critic and journalist) acted as the secretary of Les XX, while other duties, including the organization of the annual exhibitions, were dispatched by a rotating committee of three members. A further nine artists were invited to join to bring the group membership of Les XX to twenty. In addition to the exhibits of its Belgian members, foreign artists were also invited to exhibit.
There was a close tie between art, music and literature among the Les XX artists. During the exhibitions, there were literary lectures and discussions, and performances of new classical music, which from 1888 were organised by Vincent d'Indy, with from 1889 until the end in 1893 very frequent performances by the Quatuor Ysaÿe. Concerts included recently composed music by Claude Debussy, Ernest Chausson and Gabriel Fauré. Leading exponents of the Symbolist movement who gave lectures include Stéphane Mallarmé, Théodore de Wyzewa and Paul Verlaine.
Together with Maus, the influential jurist Edmond Picard and the Belgian poet Emile Verhaeren provided the driving force behind an associated periodical, L'Art Moderne, which was started in 1881. This publication aggressively defended Les XX from attacks by critics and members of the visiting public. Picard polemically fomented tensions both with the artistic establishment and within Les XX. By 1887, six of the more conservative original members had left, sometimes under pressure from Picard and Maus, to be replaced by artists who were more sympathetic to the cause. Altogether, Les XX had 32 members during the ten years of its existence.
The Chariot»
You feel everything is a constant battle at the moment, but persevere and you will triumph in the end. Expect some good news that will help you to keep going until you achieve your goals. This is a time of movement and change and of conflicts ending in victory. You may well consider a journey that relates to work or go for that new car you've been looking at.
Memories»
Renoir, dead birds and rubber gloves, stolen kisses, life, stillness, pouches of Chinese fresh drinking water, broken dreams, lost lovers, onions, sections of discarded fishing nets strewn across the tourist beach, lovers in the darkness groping for the dark, hands first finding spaces, then they find there mark, my father, my ghost, my hopes and dreams, stinking of rotting carcasses [Read More]
The Hanged Man»
The cards suggest that what you most want at this time is to have it all, why should you have to give something or someone up? Perhaps you feel a victim and that events are not going as planned. Trust that this is a passage from one phase of your life to another. If you are not sure what or who you need to give up, trust that what will be will be, and will ultimately be to your benefit.
Scars »
The calming dreams you have and then horror comes flooding back, the fists, the words, cutting like knives.
Justice »
There could be agreements or legal affairs that concern you and you certainly don't want to lose – you feel quite strongly that you are in the right. Stay calm and level headed and seek sound counsel if you need to.
The World»
Success, fulfillment and conclusion are near at hand – the successful outcome to a venture, satisfaction in a relationship and efforts rewarded. It is a culmination of events and indicates material wealth and greater spiritual awareness. You may choose to buy that dream house or a wonderfully fulfilling relationship is on offer, enjoy!
Judgement»
If you allow fear to stop you from taking a chance or a new possibility then you will lose out. Do not ignore the new opportunities being presented to you – a decision, new job or relationship could change your life for the better. Do not refuse change when change at this time is vital – feel the fear and do it anyway. Outcomes may well be delayed, however this is a time for positive action and not passiveness.
The Moon»
Whilst you are confused and fearful and allowing your anxieties to hold you back, trust that all will turn out well in the end. Things may seem tough or confusing but stick with it, its right for you. The Moon is a good omen if you are in a clandestine affair and helps guide us to open our minds to new and unexpected possibilities.
Les XX. (2014, May 24). In Wikipedia, The Free Encyclopedia. Retrieved 10:23, May 25, 2014, from http://en.wikipedia.org/w/index.php?title=Les_XX&oldid=609900303
Related articles