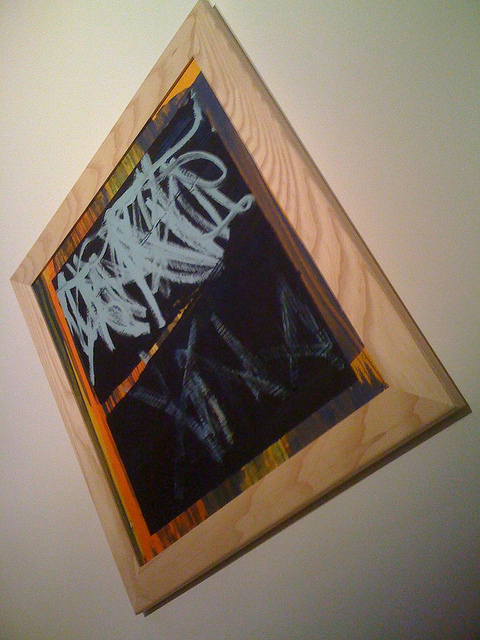 View From a Train Window
(now in private collection)
Oil paint on canvas
…the experience of the landscape viewed in shorthand, the trick is to imply with the minimum of effort…
Unfortunately the majority of landscape art fails miserably. However, 'Lake Lucerne: the Bay of Uri from above Brunnen' circa 1844 (by Turner) is the ultimate painting of landscape and nature – it tells a massive story with very little content. This has been an important painting for me since the early 1970's. I have always admired the New York Abstract Expressionists of the mid 20th century but when I first saw this painting by Turner…… my sock were blown off. It is without doubt a clever (maybe unfinished) conceptual landscape painting.
Landscapes that are seen at speed, blurred, undefined, with a static, pinpoint horizon are better than watching TV. In many respects transferring theses visual clues into (in my case) paint gives a prompt, a reminder of the general feel of the landscape… an estimate, a representation/illusion takes on more realness than the actual physical object, the object then becomes a metaphor for the created illusion. This in turn creates an additional reference for the object, an extra visual adjective eg. 'The sky was very Turneresque.' Turner's illusion becomes a metaphor for the real thing, which vividly describes [in words] the actual sky. The concrete object cannot say everything about itself – it has a limited vocabulary and is unable to say what is required of it. It is on many levels mute.
"
Whatever Happened to the Space Age
" Original painting by Peter Bright.
Media
: Painting and Screen Print on canvas, signed and dated 2011.
Size
: 400mm x 400mm. Price includes shipping
Continue reading ?
Related articles