Just been to a house in Wimbledon and on the wall was one of my paintings. An interesting rediscovery after a long train journey from North Devon.

An oil of a knife, a pair of scissors, a spoon on a tiled surface. I must have painted it about ten years ago. I'd forgotten all about it.

original post created on an android phone using the wordpress app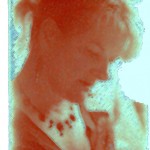 This gallery contains 5 photos.
Here are a few more images that accidently got solorised in the darkroom. Some of those above look like they have been created by a pinhole camera. The one below was… The pinhole camera used to take this photograph in … Continue reading ?