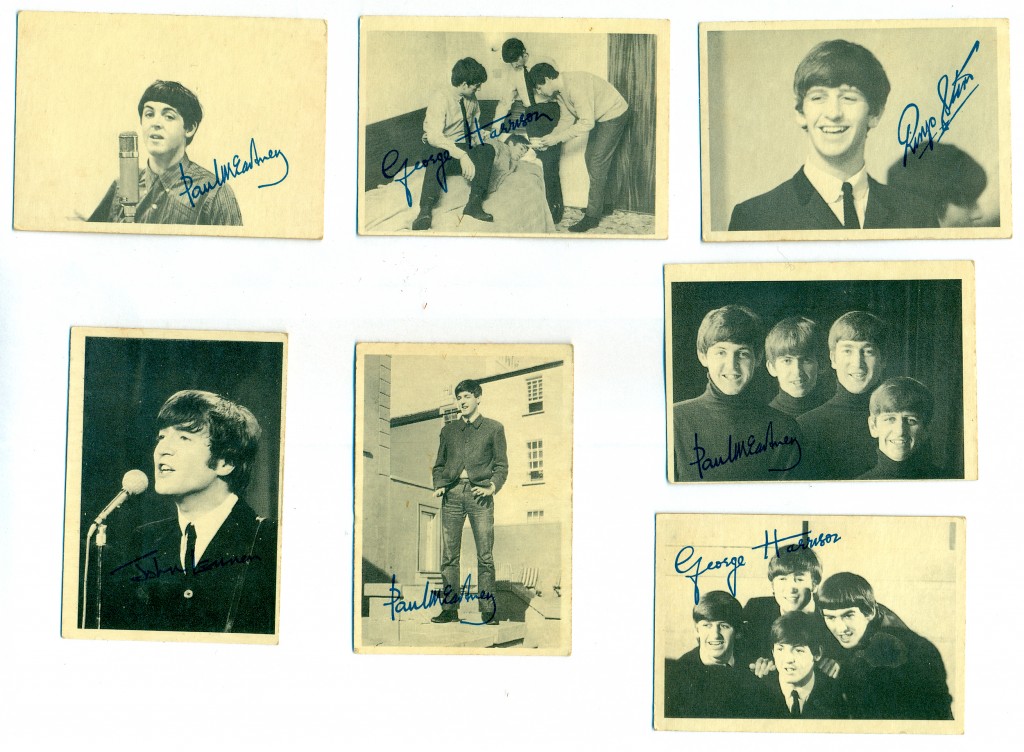 The Beatles A & B C Chewing Gum Ltd (second series)
I understand the joys of collecting things like stamps, trading crds etc. there is alway the pleasure of finding, buying that elusive one that will make the set. Chewing gum cards were my thing when I was small – I loved the chance element, the hope of getting what I wanted. I no longer collect things but I still love chance, which is why I now do the lottery.
The Beatles built their reputation playing clubs in Liverpool and Hamburg over a three-year period from 1960. Manager Brian Epstein moulded them into a professional act and producer George Martin enhanced their musical potential. They gained popularity in the United Kingdom after their first hit, "Love Me Do", in late 1962. They acquired the nickname "the Fab Four" as Beatlemania grew in Britain over the following year, and by early 1964 they had become international stars, leading the "British Invasion" of the United States pop market.
In 1962 / 63 Douglas Coakley of A & BC Chewing Gum Ltd, approached Brian Epstein, The Beatles manager, and his lawyer David Jacobs, to obtain the rights to produce trading cards featuring photographs and autographs of the Beatles. A set of 60 cards was produced and issued in 1964. The photographs were provided to A&BC Chewing Gum Ltd courtesy of Nems Enterprises Ltd, Brian Epstein's company, and appear to be mostly taken in 1963 and maybe 1962. A second series quickly followed.
I love Beatles ephemera – I hate their annoying music
As far as I am concerned they are not the massive influence on popular music they are claimed to be – mediocrity comes to mind.