I have decided to recycle some old preview invitations that I sent out for exhibitions over the years.

The ant and the word bug amused me.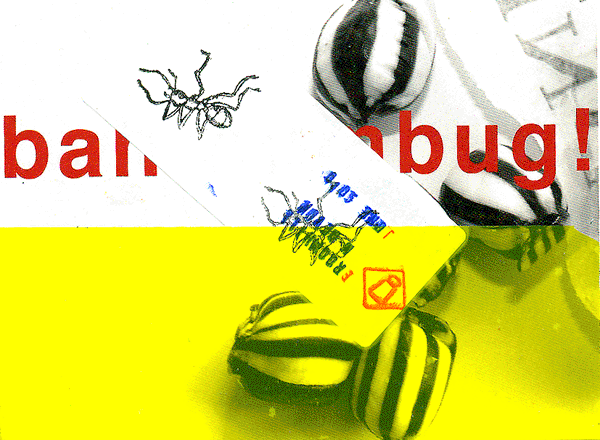 The term mixed media has always made me want to reach for the puke bucket – I prefer the expression 'Combine Painting' or in this case 'Combine Drawing'.I have always been a hoarder, newspaper clippings, postcards etc. It is only now that I have decided to recycle them.Juxtaposing images, either as a collage or printing is not simply a decorative process it is a complicated exercise. The mind always tries to create a narrative between images. The juxtaposition of arbitrary marks, color, photographs etc. will always tease and trick the mind into rationalizing what it is trying to process and attempt to make physical world references – in other words make sense of what it is trying to analyze.

BUg = aNT old exhibitions
Invited to perform @ 3rd mail-art festival ( 14th April 1990) – OJC Clichee in Sint-Niklaas, Belgium, as 'This Window'Click here for This Window's reviews in GAJOOB=======================
Royal Albert Memorial Museum Exeter March 2nd 1979 – 24th March 1979Exhibition of Prints from Exeter College of Art
=======================
10-31 mai 1979École Regional des Beaux-Arts RENNESUne exposition commune des élèves
=======================

Related articles